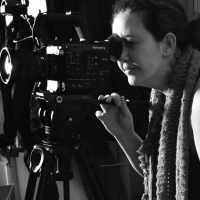 Daniele Lanzarotta
Contemporary Romance, New Adult Romance, Paranormal Romance, Fantasy, Teen & Young Adult
Profession

Author, CEO/Founder of Firefly Productions
Daniele Lanzarotta is the author of young adult and new adult paranormal/fantasy/contemporary novels, including the Imprinted Souls Series, Academy of the Fallen Series, Sudden Hope, and A Mermaid's Curse Trilogy.

Daniele is also a filmmaker, and CEO/Founder of Firefly Productions. She has recently worked on Virginia based short films as the 2nd Assistant Director and Still Photographer. Daniele is currently working on the development stage for the adaptation of her novel, Sudden Hope, which she also plans to film in VA.

She enjoys watching hockey, playing Rock Band, Guitar Hero, and spending time with her husband, two daughters, and the family dog.
Recommended Featured Books
"Someday, everything will make perfect sense. So for now, laugh at the confusion, smile through the tears, and keep reminding yourself that everything happens for a reason"